KTD COMPUTERS – YOUR LOCAL EXEDE INTERNET DEALER
WOW !

  

NO MORE DATA CAPS
EXEDE NOW OFFERS UNLIMITED DATA

LIMITED TIME ONLY- CALL FOR A

SPECIAL OFFER


ONLY FROM KTD COMPUTERS
Covering : Altamont, Arcola, Arthur, Beecher City, Casey, Centralia, Charleston, Dieterich, Edgewood, Effingham, Flora, Greenup, Kimmundy, Louisville, Mason, Mattoon, Neoga, Newton, Olney,  Salem, Shelbyville, Shelbyville, Sigel, St. Elmo,  Sullivan, Teutopolis, Toledo, Tuscola, Vandalia
If you live anywhere near the above town we most likely can service your needs so call
and we can work with you to provide your Internet Services.

 

We cover central Illinois approximately a 75 mile radius from Effingham Illinois.


By calling KTD you will get the EXACT same package offer
that you would get by calling the 1-800 numbers


BUT you'll get LOCAL technicians to work with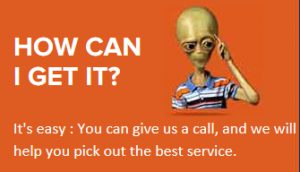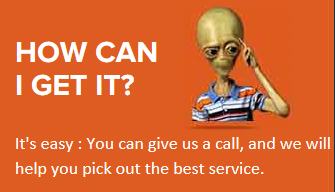 Call  (217) 347-7736  TODAY to schedule your installation

Exede: The bright future of satellite internet
Exede Satellite Internet is the culmination of more than a decade of planning and innovation. Here's our story.
Part One: It all started in a spare bedroom.
Like a lot of companies that have changed the way the whole world works, ViaSat, the company behind Exede, was started on a shoestring. It all began with early brainstorming about an innovative satellite company … in a spare bedroom in 1986.
Led by Mark Dankberg and a group of ambitious engineers, ViaSat would grow to become a leading technology innovator for business, government and the U.S. military, focusing on communications via satellite. One of its largest customers was a Colorado company called WildBlue.
Part Two: WildBlue.
In 1999, a small group of communications experts based in Denver foresaw the need for satellite internet in the same way that companies had seen an opportunity for satellite TV back in the 1980s. They designed a satellite network created specifically for internet communications. For the first time the Ka-Band of the wireless spectrum was used. They named the company WildBlue.
WildBlue's first satellite launched in 2004. The next year, the company began delivering internet services to people in the rural U.S. who had no access to faster forms of internet connectivity.
The original WildBlue service offered download speeds about 30x faster than dial-up service and was greeted with enthusiasm. It may be difficult to remember what the internet was like in 2005: There was no YouTube, no Twitter, no Netflix and no Hulu. Facebook was just a year old and was only used by a few college students. So WildBlue's original download speeds — up to 1.5 Mbps — seemed lightning fast.
Over the next 5 years, WildBlue experienced record growth. It launched a second satellite and leased space on a third. But even that couldn't keep up with the demand. In the most populous U.S. states, WildBlue's service was "sold out" as its satellite beams quickly became full.
Over time, 1.5 Mbps didn't seem all that fast anymore. WildBlue customers liked the company, its U.S.-based customer care department and its friendly service, but they wanted faster speeds similar to those offered by cable companies in the cities.
Part Three: ViaSat acquires WildBlue and sets out to launch the world's most powerful communications satellite.
In January 2008, ViaSat announced it was building the world's highest capacity communications satellite — one that would offer a whole new class of internet service with much faster speeds. It was a visionary project destined to revolutionize the satellite internet market.
ViaSat had almost everything it needed: world class technology, talented engineers and a revolutionary new satellite in the works. The only thing missing was the support structure needed for a residential internet service — capabilities that WildBlue already had. It was a natural fit. So in December 2009, ViaSat acquired WildBlue, its customers, satellites and operational expertise.
Part Four: Exede Internet Service.
In October 2011, ViaSat successfully launched ViaSat-1 into orbit 22,300 miles over the equator in what's called a "geosynchronous orbit." This type of orbit is in just the right place to cover the same part of the earth as it rotates. ViaSat also announced a new name for the service: Exede. With download speeds up to 12 Mbps, proprietary acceleration software and an entirely new technology on the ground, it was a different experience from any satellite internet service anywhere.
Today, we're already planning ViaSat-2, our next satellite set to launch in 2016 with yet another giant leap in technology and service levels. At the same time, we're continuously looking at ways to improve service and speeds for our current customers. We remain dedicated to providing the best satellite communications technology, solutions and services in the world.
NEW !!!   UNLIMITED DATA plans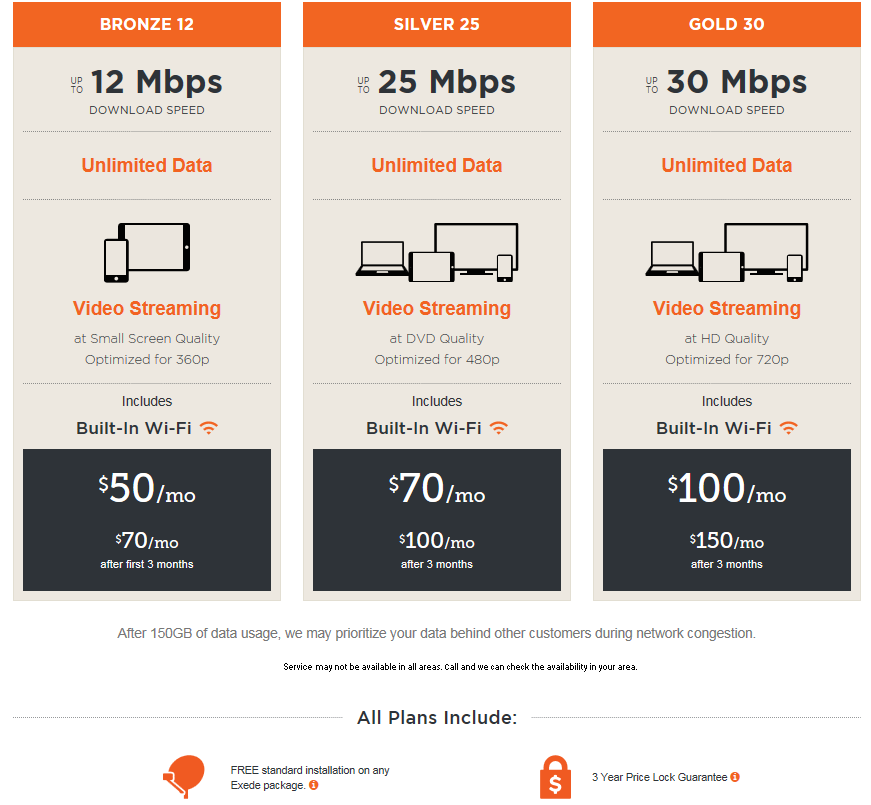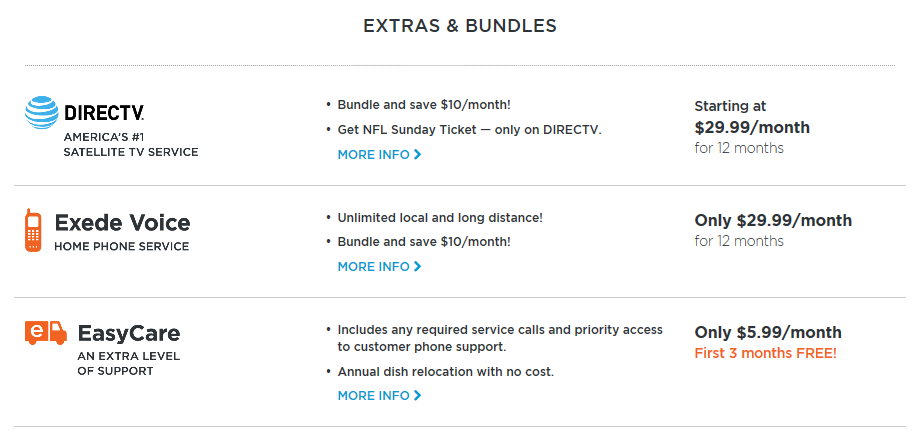 Introducing Unlimited Plans
If you've hesitated to purchase satellite internet because of data caps,
the wait is over

.

It's true — ViaSat has launched unlimited data Exede Internet plans for the first time ever! We think unlimited data plans are the future of satellite internet for everyone. While we've launched unlimited service plans in select areas for now, we're planning to offer these types of service plans in more areas across the U.S. and beyond in the very near future.
What can you do with an unlimited data plan?
Anything you routinely use the internet for. Banking. Shopping. Homework. Streaming music and video. Downloading files. Social media. News, sports, weather. Everything you love – more of it.
Who is it for?
Exede Internet from ViaSat is a great choice for people who don't have cable where they live. It will be an upgrade for your family if you've been stuck with slow DSL or a local wireless service.
What are the different types of unlimited data plans?
In some areas, we're offering three types of unlimited data plans. The main differences between these plans are speed and video streaming quality. Here are the details:
Bronze 12
Download speeds up to 12 Mbps / Upload speeds up to 3 Mbps
Video Streaming at small screen quality, optimized for 360p
GOOD FOR: Smaller households that don't use many connected devices; people who mostly tend to stream videos on their phone or tablet. Think more YouTube than Netflix.
NOT IDEAL FOR: Households that stream video on large-screen TVs; people who stream most of their shows or cord cutters who value high definition quality; households with more than a few connected devices running at the same time.
Silver 25
Download speeds up to 25 Mbps / Upload speeds up to 3 Mbps
Video streaming at DVD quality definition, optimized for 480p
GOOD FOR: Families with many connected devices; people who don't mind watching shows in DVD quality and tend to watch on laptops, tablets, or small TVs.
NOT IDEAL FOR: Film buffs who prefer their shows in HD quality.
Gold 30
Download speeds up to 30 Mbps / Upload speeds up to 3 Mbps
Video streaming at high definition, optimized for 720p
GOOD FOR: Everyone! Families with many connected devices; people who want the best quality regardless of the device they use; people who watch video on big-screen TVs.
NOT IDEAL FOR: People who want to watch shows in 4K definition.
Which plan should I choose?
We recommend picking the service plan that best fits your video viewing habits, desired speed and budget. You can always upgrade using the MyExede online portal. There's never a fee to change service plans, and your upgraded service will be available within a matter of minutes.
Frequently asked questions
Is there a Free Zone?
No. There's no need for a Free Zone with unlimited data plans. The Free Zone was created to give additional data to our customers on our older plans during the wee hours. With our new unlimited data plans, you don't have to wait until 3 a.m. to download files.
When will these plans be available in my area?
The unlimited data plans launched September 28, 2017. Current customers can upgrade their service plans (where available) at MyExede. Check out this article on more information about changing service plans.
Why can't I find it in my area?
Unlimited data plans are not offered everywhere yet. If you don't see these service plans available in your area, check back in a few months. More new service plans will be launched in 2018.
How much data usage is included in my unlimited data plan?
On an unlimited data plan, there are no limits to how much data you can use during your monthly billing cycle. However, if you use more than 150 GB of data and the network is congested, ViaSat may prioritize your data behind other customers.
Will my internet service be slower after I've used 150 GB of data?
When the network is not busy, nothing will happen to your service speeds. When the network is busy, ViaSat may prioritize your data behind other customers, which will result in slower speeds. Web pages and videos may respond and load more slowly than during periods of non-congestion.
Is this the same as the Freedom plans offered previously?
No. If you used more than 150 GB of data on a Freedom plan, your speeds were slowed all day, every day until the end of your monthly billing period. On an unlimited data plan, your speeds remain normal after 150 GB of usage. Instead, when the network is busy, we may prioritize your unlimited plan data behind other customers after 150 GB of data usage, resulting in slower speeds.